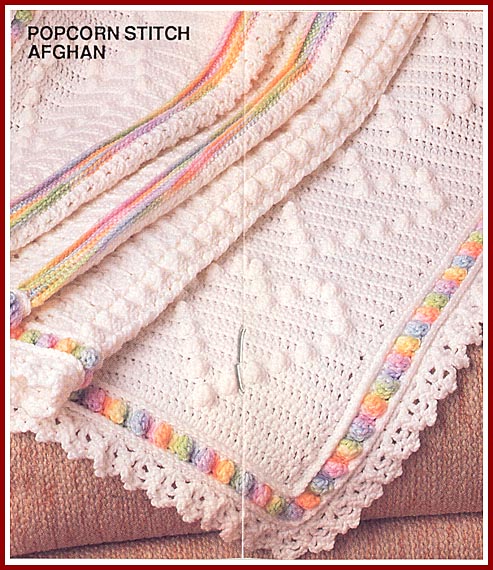 Auntie Pat's Hearts & Shells Afghan was published by Annie's Attic in 1990 the "Special Stitches Afghans" pattern booklet. In the booklet, Auntie Pat's Afghan bore the unimaginative title, "Popcorn Stitch Afghan." It came about when my aunt asked me to design an afghan just for her, for the "dream house" she was planning after my uncle retired.
This warm but delicate afghan is worked in knitting worsted weight yarn, alternating strips featuring popcorn stitch hearts with lacy shell strips. It measures approximately 56" x 65" in size.
The SPECIAL STITCHES AFGHANS leaflet was originally published in"digest" size, approx. 5.5" x 8.25" (the same size as Annie's Pattern Club magazines). It was later reprinted in full leaflet size, 8.5" x 11".
Other patterns in this publication include:
French Knot Afghan
Lacy Shell Afghan
Afghan Stitch with Flowers Afghan
Loop Stitch Afghan
Solomon's Star Afghan
Please note: Quantities are very limited. Due to the copyright laws, and the fact that the copyrights for the published items do NOT belong to me, these patterns may only be sold as part of the publications in which they appear. I cannot sell scans or copies of these patterns by email.
Shipping & Handling costs will be added to all orders, as well as 6% sales tax for Michigan residents.
NOTE: Aunt Pat's Afghan, aka "Popcorn Stitch Afghan," can also be found in Blue Ribbon Afghans from America's State Fairs. Click here for details & ordering!
Please note that this leaflet is long out of print. This copy is somewhat wrinkled -- good used condition.
PAF-004-sm
Aunt Pat's Afghan (Special Stitches Afghans -- digest)
$9.99
Please note that this leaflet is long out of print. The copy listed below is like new.
PAF-004-lg
Aunt Pat's Afghan (Full size booklet, Special Stitches Afghans)
$19.99
SOLD