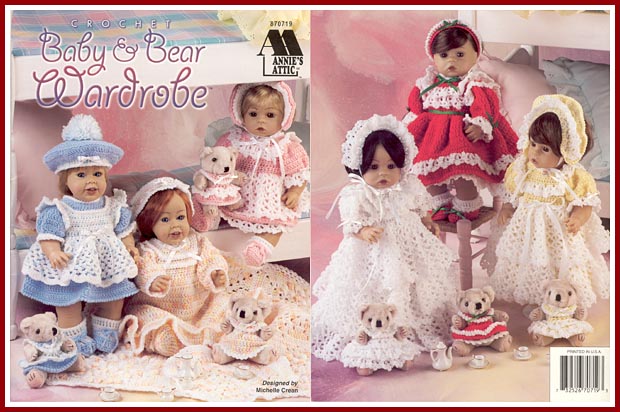 Baby & Bear Wardrobe features fashions for a 14" doll such as Baby So Beautiful. I don't remember ever receiving a doll from my mother without having a wonderful wardrobe with it; Mom used to dress dolls for gift baskets for underprivileged children every year, too. She said, "It's fun!" Mom, as usual, was right.
Each ensemble in this pattern set includes a dress (or nightie), a hat, shoe / booties, and a matching outfit for Dolly's 4" teddy bear. I have included a nightie (complete with nightcap, slippers, and blankies for both Dolly and Teddy), a First Day of School outfit with pinafore and beret, a Birthday Party Dress in pink, a Christening Outfit, a bright red Holiday Dress, and pretty yellow Flower Girl outfit.
Use Lion Brand Jaime pompadour yarn and a D hook .
Please note: Quantities are very limited. Due to the copyright laws, and the fact that the copyrights for the published items do NOT belong to me, these patterns may only be sold as part of the publications in which they appear. I cannot sell scans or copies of these patterns by email.
Shipping & Handling costs will be added to all orders, as well as 6% sales tax for Michigan residents.
Please note: this pattern is very rare. I have several copies; conditions as noted.
PD-006
Baby & Bear Wardrobe - Excellent condition
$24.95
PD-006b
Baby & Bear Wardrobe - good used condition: wear and small stains on first couple of pages.
$19.95