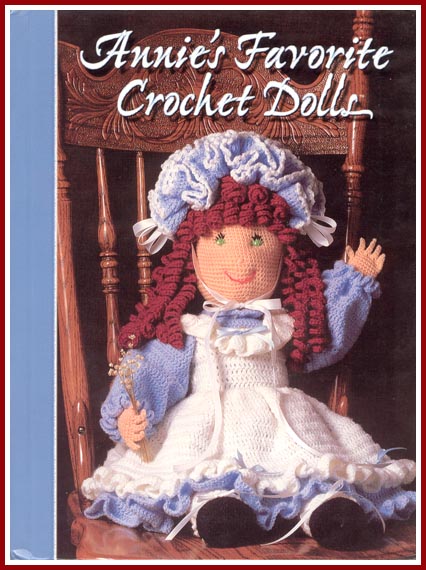 Annie's Favorite Crochet Dolls , a hardcover book published in 1997 by Annie's Attic, LLC, features 39 doll and doll clothing patterns. My "Cookie Cutter Witch" is among them. (You can also order "Cookie Cutter Witch" in its original publication here.
Other patterns in this book include:
Sweetheart Doll Wreath
Annie Air Freshener
Tissue Cover Girls
Dolly Dreams Pajama Bag
Sweet Scents
Trinket Box Debutante
Granny Buttons
Little Orphan Arf Arf
Wintertime Bear
Cuddly Cottontail
General Ted E. Bear
Indian Brave & Maiden
Jolly Scotsman
Native American Pals
Persian Princess
Hopi Warrior
Yesterday's Child
Vintage Finery
Mary Elizabeth Bed Doll
Cupie Doll Cuties

Rag Doll Twins
Bride & Beau
Country Cousins
Lisa Diane
Bitty Baby
Fashion Doll Queen Elizabeth
Fashion Doll Wedding Party
Fashion Doll Sleepytime Sisters
Fashion Doll Arabian Nights
Fashion Doll Flamenco Dancer
Fashion Doll Hawaiian Beauty
Fashion Doll Ice Skater's Delight
Fashion Doll Prom Night Pair
Bridal Belles
New Year's Gala
Cookie Cutter Witch
Pilgrim Pillow Dolls
Clothespin Christmas
Potpourri Angel
Please note: Quantities are very limited. Due to the copyright laws, and the fact that the copyrights for the published items do NOT belong to me, these patterns may only be sold as part of the publications in which they appear. I cannot sell scans or copies of these patterns by email.
Shipping & Handling costs will be added to all orders, as well as 6% sales tax for Michigan residents.