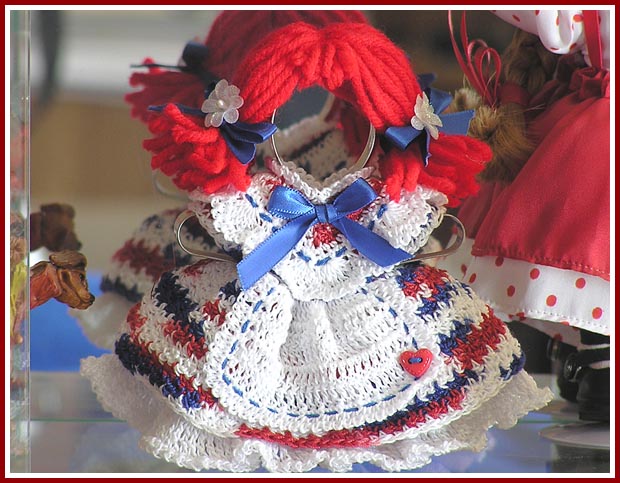 The entire Cookie Cutter doll series came about as a dare many years ago from my Auntie Pat. While out shopping one day, she found an angel made from lace and yarn glued around a gingerbread man cookie cutter. She said, "You could crochet something MUCH cuter than this. And when you do, I want the first one!" I got busy, Aunt Pat did receive the original prototype angel, and Annie's Attic was interested enough to request more cookie cutter doll patterns, which appeared in Cookie Cutter Cuties, back in 1994).
Altogether over the years, I have designed more than two dozen different cookie cutter dolls! I still have a few of the older, published designs available here. Also, Violet the Easter Angel is Pattern of the Month in the March/April 2006 issue of Crochet World magazine!
"Americ-Anna" has not been previously published, and is available exclusively from this website. NOTE: she is also featured in the 2009 Crochet Pattern-A-Day Calendar
!
6% sales tax will be added to all orders for Michigan residents, but you can save printing, shipping and handling costs by ordering the PDF version of the pattern! It will be emailed to you immediately, and you may print it yourself at your leisure.

What is PDF?

* Plus 6% tax for Michigan residents.