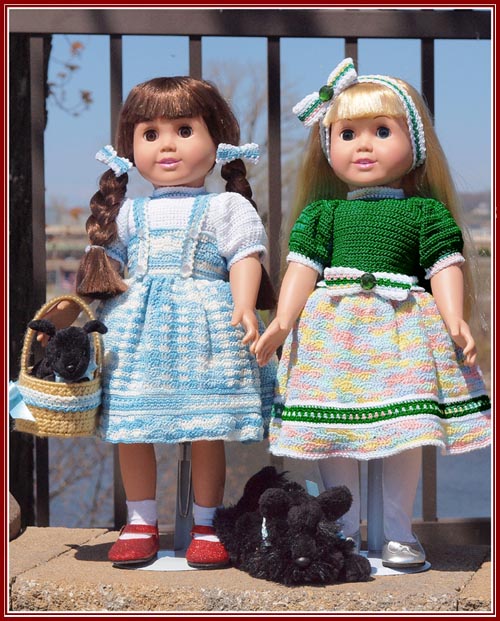 THE WIZARD OF OZ is my great-niece Evie's very favorite movie. She likes to pretend that she can travel "over the rainbow," follow the yellow brick road, meet all kinds of strange and wonderful new friends, and have exciting adventures before discovering in the end that there is truly "no place like home." Evie even has her own "Dorothy dress" -- and now, so does Evie's doll!
The Back To Kansas pattern set is worked in size 10 crochet cotton, and fits 18" stuffed bodied dolls such as American Girls™, Alexander, Goetz, Springfield, Battat, etc. Dorothy's outfit includes crocheted Blouse with Attached Petticoat, Jumper, Hair Bows, and Basket Trim/Dog Collar, and the pattern set includes graphs and instructions for a pretty plastic canvas Basket. An interesting stitch combination creates the "gingham" look of Dorothy's Jumper (though due to the variations in dye lots, color patterns may differ from those pictured).
The pattern set also includes the Emerald Rainbow Party Dress, with Sash and Hairband with Bows, and a Rainbow Ruffled Half Slip. (Note: use a festive red, white, and green ombre thread instead of the pastels, and you'll have a Christmasy outfit, too!).
The Back To Kansas pattern set has been featured as an electronic download from Annie's Attic and is now available as a download from Ravelry, but the printed version is currently available exclusively from this website.
Please note: if you bought Back to Kansas before 23 July 2015, there are some slight errors. Please click here for corrections sheet!
6% sales tax will be added to all orders for Michigan residents, but you can save printing, shipping and handling costs by ordering the PDF version of the pattern! It will be emailed to you as quickly as I can receive and process your order, and you may print it yourself at your leisure.
NOTE: Due to the problems some folks have had receiving emailed PDF's, I am adding a new option for purchasing: Electronic Download via Ravelry.com.

You will still check out using PayPal, but the Ravelry Buy Now link will take you directly to the Ravelry checkout instead of our shopping cart so that you will be able to download your pattern(s) immediately and securely!

You DO NOT have to be a Ravelry member to order through this link -- and I actually recommend it over emailed PDF's!

ED-015E
Back To Kansas Electronic Download from Ravelry.com
Recommended
$7.95 Total*
ED-015E
Back To Kansas - Emailed PDF
$7.95 Total*
ED-015P
Back To Kansas - Printed
$7.95* + s/h
* Plus 6% tax for Michigan residents.