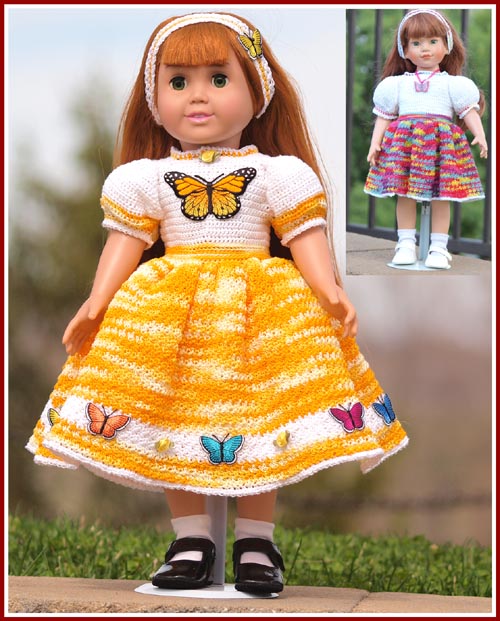 Becca Loves Butterflies, and she also loves her new butterfly-bright, summery party dresses! This pattern set has been updated to include two versions of the dress: the previous short version in bright ombre colors, with its matching butterfly necklace, and the new longer version in "Monarch" colors of shaded yellows, decorated with ribbon roses and embroidered butterfly appliques.
This pattern set is sized for 18" stuffed bodied dolls such as American Girls™, Goetz, Springfield, Battat, etc. Worked in size 10 crochet cotton, the set includes patterns to crochet the long or short dress, long or short half-slip, and matching hairband. Instructions are also included for making the butterfly necklace using a purchased butterfly charm or button.
The Becca Loves Butterflies pattern set is also now available by electronic download from Ravelry.com, but the printed version is only from this website.
6% sales tax will be added to all orders for Michigan residents, but you can save printing, shipping and handling costs by ordering the PDF version of the pattern! It will be emailed to you immediately, and you may print it yourself at your leisure.
NOTE: Due to the problems some folks have had receiving emailed PDF's, I am adding a new option for purchasing: Electronic Download via Ravelry.com.

You will still check out using PayPal, but the Ravelry Buy Now link will take you directly to the Ravelry checkout instead of our shopping cart so that you will be able to download your pattern(s) immediately and securely!

You DO NOT have to be a Ravelry member to order through this link -- and I actually recommend it over emailed PDF's!

ED-007E
Becca Loves Butterflies Electronic Download from Ravelry.com
Recommended
$5.95 Total*
ED-007E
Becca Loves Butterflies - Emailed PDF
$5.95 Total*
ED-007P
Becca Loves Butterflies - Printed
$5.95* + s/h
* Plus 6% tax for Michigan residents.