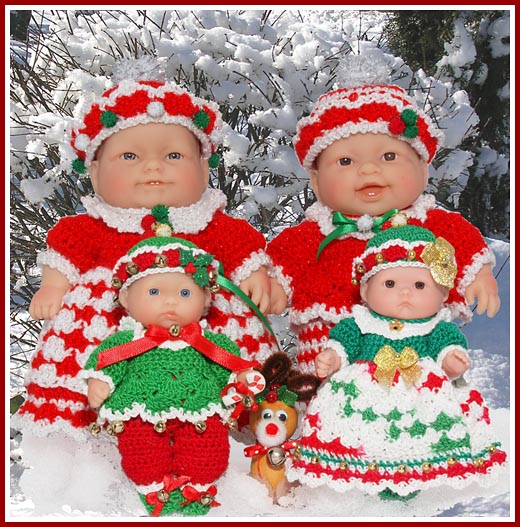 Happy Holidays from Candy, Kane, Jingles, and Belle!
The Candy Canes & Jingle Bells pattern set includes two complete outfits -- Candy and Belle's dresses, caps, pantaloons, and shoes; and Jingle and Kane's tops, pants, caps, and shoes. Made in size 10 crochet cotton, these outfits fit the popular 5" chubby body vinyl baby dolls. Made in fine weight baby or sport yarn (I used Vanna's Glamour), they will fit a 7-1/2" soft body baby doll or an 8" chubby body vinyl baby doll, depending on size of crochet hook used. (Instructions for reindeer ornament NOT included.)
Little girls of all ages would be delighted to find one of these adorable little Elf Babies peeking out of a Christmas stocking! The dolls would also make wonderful additions to wreaths, centerpieces, or any other holiday decoration. Plus -- The 5" Jingles and Belle are the ideal size to be a companion for your little girl's 18" doll friend (see how well they match the 18" Holly & Ivy dresses!). (Note: please don't use the tiny embellishments in dolls intended for young children, as these small trims may be choking hazards.)
You probably recognize Jingles, who appeared in the 2012 Crochet Calendar as "Bitty Christmas Elf", and previously on this website as Elfric / Elfrieda Christmas Elf while waiting to be joined by the rest of the set.
Curious about Donna Raye? Please click here!
6% sales tax will be added to all orders for Michigan residents, but you can save printing, shipping and handling costs by ordering the PDF version of the pattern! It will be emailed to you as soon as I receive your order from PayPal, and you may print it yourself at your leisure.
NOTE: Due to the problems some folks have had receiving emailed PDF's, I am adding a new option for purchasing: Electronic Download via Ravelry.com.

You will still check out using PayPal, but the Ravelry Buy Now link will take you directly to the Ravelry checkout instead of our shopping cart so that you will be able to download your pattern(s) immediately and securely!

You DO NOT have to be a Ravelry member to order through this link -- and I actually recommend it over emailed PDF's!

ED-021E
Candy Canes & Jingle Bells Electronic Download from Ravelry.com
Recommended
$8.95 Total*
ED-021E
Candy Canes & Jingle Bells - Emailed PDF
$8.95 Total*
ED-021P
Candy Canes & Jingle Bells - Printed
$8.95 + s/h
* Plus 6% tax for Michigan residents.