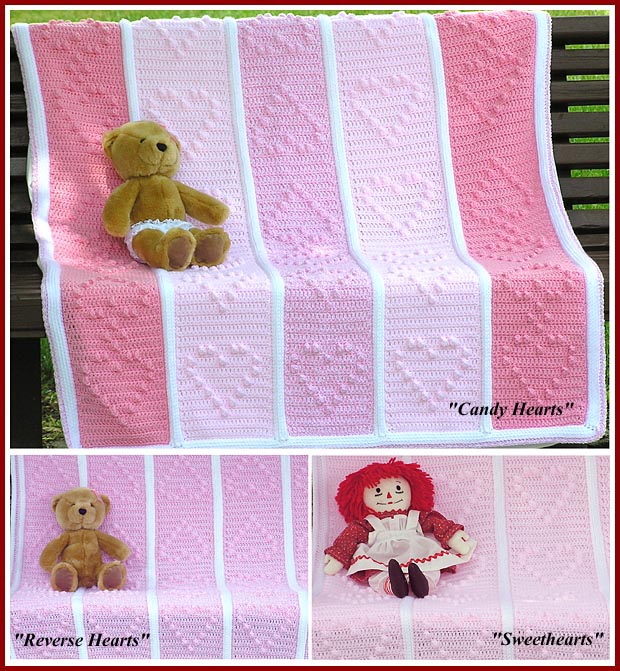 Treasured Heirlooms Crochet's new series of Quick and Cozy Baby Afghans are designed in strips that work up quickly, go together easily, and create a fun-to-make, heirloom-quality gift that is also practical. Worked in baby sport/DK weight yarn, these afghans are light and fluffy yet warm for both Baby and Mom during those late-night feedings!
"Candy Hearts" is our premier pattern set in the Quick and Cozy series. Basic Instructions include directions for each of the three different popcorn heart strips, panel edging, and panel joining. Because each strip is basically the same size, they can be combined in many different ways to form entirely different afghans! Detailed directions are also included for each of the three examples shown. Finished sizes are approx. 33" - 36" wide and 44" long.
6% sales tax will be added to all orders for Michigan residents.
You can save printing, shipping and handling by ordering the PDF version! It will be emailed to you immediately, and you may print yourself at your leisure.
NOTE: Due to the problems some folks have had receiving emailed PDF's, I am adding a new option for purchasing: Electronic Download via Ravelry.com.

You will still check out using PayPal, but the Ravelry Buy Now link will take you directly to the Ravelry checkout instead of our shopping cart so that you will be able to download your pattern(s) immediately and securely!

You DO NOT have to be a Ravelry member to order through this link -- and I actually recommend it over emailed PDF's!

EB-001E
Spring & Blossom Electronic Download from Ravelry.com
Recommended
$6.99 Total*
EB-001E
Quick & Cozy Candy Hearts, Pattern - Emailed PDF
$6.99 Total*
EB-001P
Quick & Cozy Candy Hearts, Pattern - Printed
$6.99+ s/h*
* Plus 6% tax for Michigan residents.