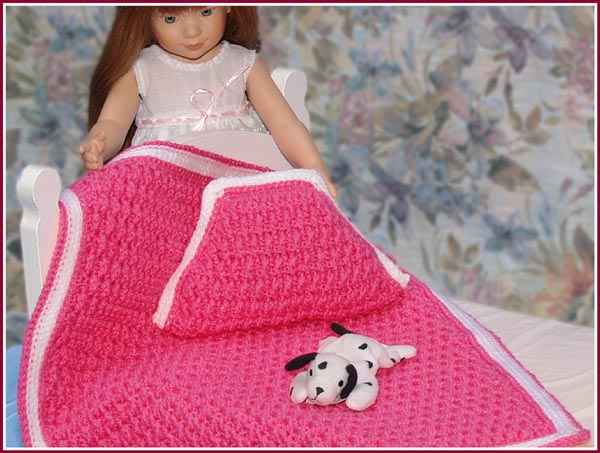 Cozy Post Stitch Doll Afghan & Pillow Set allows a favorite doll to cuddle up and read or watch TV with her very own textured afghan and triangle-shaped "back pillow." The set is fairly simple, quick, and fun to make in baby DK yarn. Finished afghan measures 17" x 21" to fit a doll bed sized for popular 15" baby or 18" dolls. Also makes a nice "wrap-up" blankie for a smaller baby!
Modifications are also included for a larger "Wrap Up Blankie" that measures approx. 20" x 23" -- just right for a 15" - 16" baby doll. This size may also be suitable for preemie babies or as a car seat/baby seat throw.
NOTE: This pattern was chosen to appear in the May & June 2016 issue of Doll Castle News!
6% sales tax will be added to all orders for Michigan residents, but you can save printing, shipping and handling costs by ordering the PDF version of the pattern! It will be emailed to you immediately, and you may print it yourself at your leisure.
NOTE: Due to the problems some folks have had receiving emailed PDF's, I am adding a new option for purchasing: Electronic Download via Ravelry.com.

You will still check out using PayPal, but the Ravelry Buy Now link will take you directly to the Ravelry checkout instead of our shopping cart so that you will be able to download your pattern(s) immediately and securely!

You DO NOT have to be a Ravelry member to order through this link -- and I actually recommend it over emailed PDF's!

ED-011E
Cozy Post Stitch Doll Afghan & Pillow Set Electronic Download from Ravelry.com
Recommended
$4.95 Total*
ED-011E
Cozy Post Stitch Doll Afghan & Pillow Set - Emailed PDF
$4.95 Total*
ED-011P
Cozy Post Stitch Doll Afghan & Pillow Set - Printed
$4.95 + s/h
* Plus 6% tax for Michigan residents.