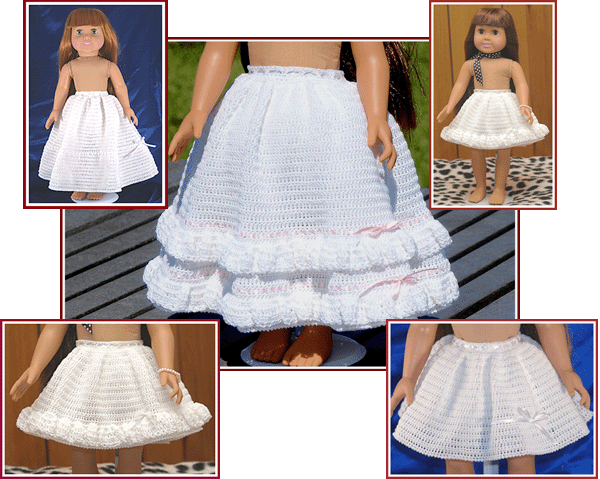 Long/Short Petticoats & Crinolines for 18" Dolls features patterns for Long Petticoat & Ruffled Crinoline, and just above-the-knee Half Slip & Crinoline. Sized to fit an 18" stuffed-body doll, such as American Girls™, Goetz, Battat, and Springfield, the easily adjustable lengths and drawstring waist will also accomodate a variety of body sizes and types, including modern vinyls and many antiques.
The long version measures 8.5" in length, excluding waistband; the short version measures approx. 5" in length, excluding waistband, and comes just above the knee. These petticoats / underskirts are crocheted using size 10 crochet cotton, and trimmed with satin ribbon.
Worked in various colors, these patterns would also make simple but elegant full skirts.
Long Petticoat for 18" Dolls was the 17 January feature in the "2008 Crochet Pattern A Day Calendar" and the Long Crinoline Petticoat appeared in the November/ December issue of Doll Castle News.
6% sales tax will be added to all orders for Michigan residents, but you can save printing, shipping and handling costs by ordering the PDF version of the pattern! It will be emailed to you, and you may print it yourself at your leisure.
NOTE: Due to the problems some folks have had receiving emailed PDF's, I am adding a new option for purchasing: Electronic Download via Ravelry.com.

You will still check out using PayPal, but the Ravelry Buy Now link will take you directly to the Ravelry checkout instead of our shopping cart so that you will be able to download your pattern(s) immediately and securely!

You DO NOT have to be a Ravelry member to order through this link -- and I actually recommend it over emailed PDF's!

ED-006E
Petticoats/ Crinolines for 18" Dolls Electrionic Download from Ravelry.com
Recommended
$6.99 Total*
ED-006E
Petticoats/ Crinolines for 18" Dolls -- Emailed PDF
$6.99Total*
ED-006P
Petticoats/ Crinolines for 18" Dolls -- Printed
$6.99 + s/h*
* Plus 6% tax for Michigan residents.