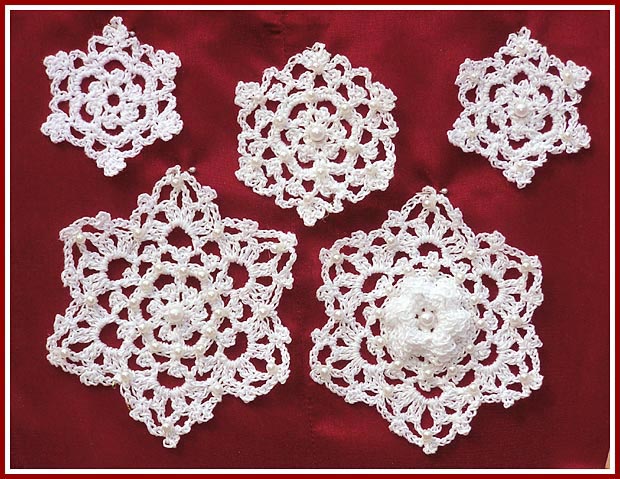 The Irish Crochet Snowflakes are the most recent in a long line of "annual snowflakes from Michelle" that everyone on my Christmas list looks forward to every December. The top left corner ornament, in plain but elegant white crochet cotton and minus the pearl beads, was included with my 2006 Christmas cards. As anyone who has ever purchased my patterns knows, I like to play with variations, and just see what happens. If you're very observant, you will notice that the Irish Rose variation bears a striking resemblance to Eilene's Victorian Rose Doily and Easter Bonnet/Red Hat jar toppers (coming soon)!
These Irish Crochet Snowflakes have not been previously published, though one of these snowflakes is featured in the 2009 Crochet Pattern-A-Day Calendar!
6% sales tax will be added to all orders for Michigan residents, but you can save printing, shipping and handling costs by ordering the PDF version of the pattern! It will be emailed to you immediately, and you may print it yourself at your leisure.
NOTE: Due to the problems some folks have had receiving emailed PDF's, I am adding a new option for purchasing: Electronic Download via Ravelry.com.

You will still check out using PayPal, but the Ravelry Buy Now link will take you directly to the Ravelry checkout instead of our shopping cart so that you will be able to download your pattern(s) immediately and securely!

You DO NOT have to be a Ravelry member to order through this link -- and I actually recommend it over emailed PDF's!

EC-001E
Irish Crochet Snowflakes Electronic Download from Ravelry.com
Recommended
$6.99Total*
EC-001E
Irish Crochet Snowflakes - Emailed PDF
$6.99 Total*
EC-001P
Irish Crochet Snowflakes - Printed
$6.99 + s/h
* Plus 6% tax for Michigan residents.