Treasured Heirlooms Crochet Catalog:

"Victorian Elegance" Wooden Dolls
---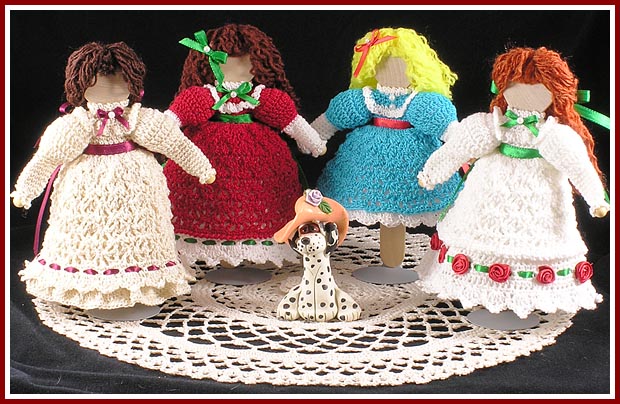 The Victorian Elegance Wooden Dolls were created to match the Victorian Elegance and Victorian Elegance II antique-inspired dresses for 18" dolls. Mix or match the dolls with the dresses! These are fun to make using wooden craft sticks for the bases and 4-ply knitting worsted weight yarn for the hair. All outfits are crocheted in Size 10 crochet cotton, with the same attention to detail you'll find in the larger outfits.
The Victorian Elegance Wooden Dolls pattern set has not been previously published, and is available in print exclusively from this website. (Doily pattern not included.) The electronic download version was previously available through Annie's Attic!
6% sales tax will be added to all orders for Michigan residents, but you can save printing, shipping and handling costs by ordering the PDF version of the pattern! It will be emailed to you immediately, and you may print it yourself at your leisure.
NOTE: Due to the problems some folks have had receiving emailed PDF's, I am adding a new option for purchasing: Electronic Download via Ravelry.com.

You will still check out using PayPal, but the Ravelry Buy Now link will take you directly to the Ravelry checkout instead of our shopping cart so that you will be able to download your pattern(s) immediately and securely!

You DO NOT have to be a Ravelry member to order through this link -- and I actually recommend it over emailed PDF's!

ED-004E
Victorian Elegance Wooden Dolls Electronic Download from Ravelry.com
Recommended
$7.95 Total*
ED-004E
Victorian Elegance Wooden Dolls - Emailed PDF
$7.95 Total*
ED-004P
Victorian Elegance Wooden Dolls - Printed
$7.95 + s/h
* Plus 6% tax for Michigan residents.
---

Victorian Elegance

Victorian Elegance II


Back to Catalog of Exclusive Patterns Dolls, Doll Clothing, Doll Afghans, and Accessories


Vintage Pattern Shop: 18- Inch Doll Clothing and Accessories


Treasured Heirlooms Crochet Vintage Pattern Shop Catalog


Treasured Heirlooms Crochet Main Catalog


Search Treasured Heirlooms Crochet

---
Treasured Heirlooms Crochet is a subsidiary of Hook And Web Designs .
---
Page, background, and graphics Copyright © 2005, 2006, Hook and Web Designs. All Rights Reserved.
Technical problems? Contact the Webmaster!