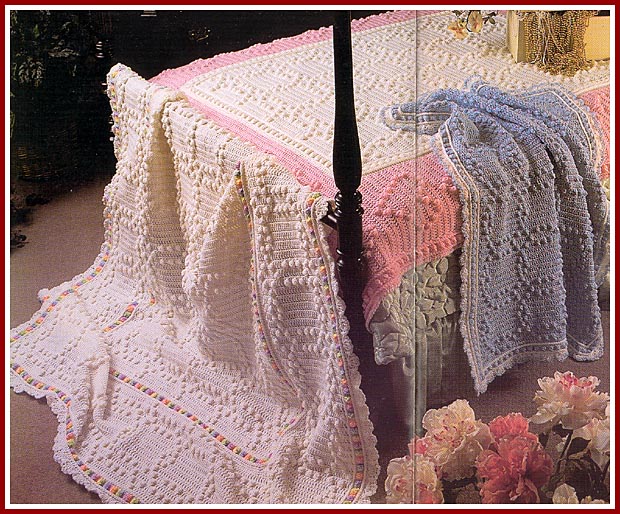 Double Wedding Ring and Hearts and Wedding Ring Afghans are worked in knitting worsted weight yarn. They are approximately 60" x 76" in size, and also look beautiful on a bed over a dust ruffle. These patterns appeared as part of a set of three double wedding ring afghans in Annie's Crochet Newsletter, January-February 1997. To see the details of the third, baby-sized afghan, click here.
Please note: While working with a customer who purchased this booklet, I discovered that somewhere in the editing process back in 1996, some errors were made. Annie's has issued a correction sheet, which you can download here:

Download Wedding Ring Afghans pattern correction PDF

Other patterns in this publication include:
Bedtime Bears
Shell Bookmark
Winter Roses Table Topper
Doily Pillows
Spring Hat & Fan
Baby Powder Baby
Diaper Caddy
Clothespin Doll & Blanket
Please note: Quantities are very limited. Due to the copyright laws, and the fact that the copyrights for the published items do NOT belong to me, these patterns may only be sold as part of the publications in which they appear. I cannot sell scans or copies of these patterns by email.
Shipping & Handling costs will be added to all orders, as well as 6% sales tax for Michigan residents.
Please note: this pattern is long out of print and very hard to find. This copy is in excellent condition.
PAF-003
Double Wedding Ring Afghans (Annie's Crochet Newsletter #85)
$14.95