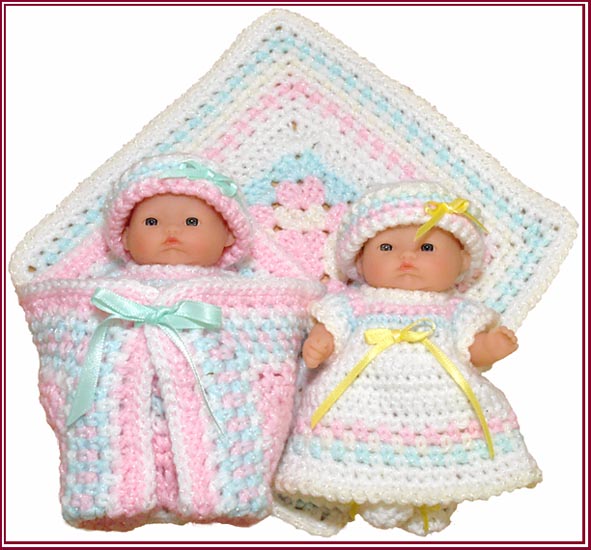 Bitsy Betsy and Her Blankie came about when I was updating the Cozy Caftan Set for 18" dolls. Somewhere along the way, I discovered that the 5" Lots to Love™ baby doll is the perfect size to "accessorize" the 18" little girl dolls, and thought it would be really cute to make a matching Cozy Sleepy Set for the tiny dolls.
As with the 18" Cozy Caftan Set, the Bitsy Betsy and Her Blankie set is crocheted in Plymouth Dreambaby Shine yarn. It features a pretty Nightie with matching Cap and Blankie in two color combinations, as well as diaper and booties. The Blankie can be wrapped and tied with a ribbon to create a "cocoon" for Baby to travel or sleep in.
Bitsy Betsy and Her Blankie is ideal for a dress-alike baby doll for your little girl's 18" friend, or on its own for carry-along play!
(If you are interested, please click here to see the newly- updated and expanded Cozy Caftan Set, which fits both 18" little girl dolls and 15" baby dolls!)
6% sales tax will be added to all orders for Michigan residents, but you can save printing, shipping and handling costs by ordering the PDF version of the pattern! It will be emailed to you immediately, and you may print it yourself at your leisure.
NOTE: Due to the problems some folks have had receiving emailed PDF's, I am adding a new option for purchasing: Electronic Download via Ravelry.com.

You will still check out using PayPal, but the Ravelry Buy Now link will take you directly to the Ravelry checkout instead of our shopping cart so that you will be able to download your pattern(s) immediately and securely!

You DO NOT have to be a Ravelry member to order through this link -- and I actually recommend it over emailed PDF's!

ED-020E
Bitsy Betsy and Her Blankie Electronic Download from Ravelry.com
Recommended
$5.95 Total*
ED-020E
Bitsy Betsy and Her Blankie - Emailed PDF
$5.95 Total*
ED-020P
Bitsy Betsy and Her Blankie - Printed
$5.95 + s/h
* Plus 6% tax for Michigan residents.