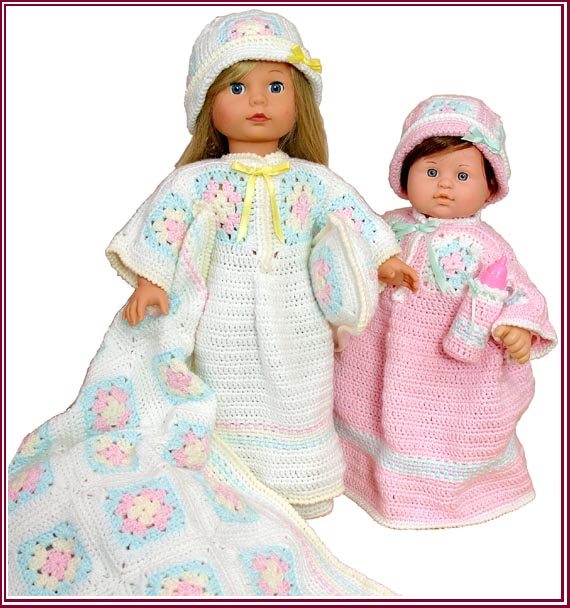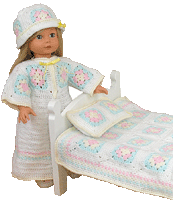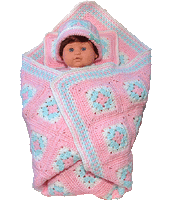 The Cozy Caftan Set for 18" dolls was one of my first Hook and Web Designs patterns, debuting in 2005. Since that time, both types of yarn that I used have been discontinued! I did find a new yarn that works even better (Plymouth Dreambaby Shine, which has now also been discontinued!) and, in the process of restitching the set, discovered that the original Caftan and Slippers fit the 15" baby doll as well as the 18" little girl doll!
As with the original pattern set, the new Cozy Caftan Set features a pretty robe/ nightie, with matching slippers, afghan, and pillow. In addition, I have added instructions for a larger size "Wrap- Up Blankie" for baby dolls, as well as a cute cap in two sizes and Baby Doll's Bottle Cover -- all in two soft and sweet color combinations!
By the way, have you noticed that the 5-inch "Lots to Love" babies are the perfect size to "accessorize" those popular 18" little girl dolls? I've also designed a matching 5" -size Cozy Sleepy Set called "Bitsy Betsy and her Blankie" so that Dolly can have her own dress-alike baby doll! Click here for details!
6% sales tax will be added to all orders for Michigan residents, but you can save printing, shipping and handling costs by ordering the PDF version of the pattern! It will be emailed to you immediately, and you may print it yourself at your leisure.
NOTE: Due to the problems some folks have had receiving emailed PDF's, I am adding a new option for purchasing: Electronic Download via Ravelry.com.

You will still check out using PayPal, but the Ravelry Buy Now link will take you directly to the Ravelry checkout instead of our shopping cart so that you will be able to download your pattern(s) immediately and securely!

You DO NOT have to be a Ravelry member to order through this link -- and I actually recommend it over emailed PDF's!

ED-019E
Cozy Caftan Set Pattern Electronic Download from Ravelry.com
Recommended
$8.95 Total*
ED-019E
Cozy Caftan Set - Emailed PDF
$8.95 Total*
ED-019P
Cozy Caftan Set - Printed
$8.95 + s/h
* Plus 6% tax for Michigan residents.